Automatic Pool Cover Features
The stronger the cover, the safer the cover. Our automatic pool covers are designed to protect your pool and your loved ones, but they're also made to fit your lifestyle and personal preferences. No company builds in more exclusive design and manufacturing features to ensure the strength and performance of its automatic covers than Coverstar!
Learn more about the unique Coverstar parts and features in our custom-built pool covers to ensure safety and reliability.
FEATURES
Automatic Cover Fabric & Webbing
Coverstar automatic covers use an exclusive, patented process to heat seal webbing around a polymer bead and weld it to the cover in one step. Independent lab tests show Coverstar's webbing is over twice as strong as our competitors.
Coverstar fabric is made from specially formulated heavy-duty vinyl fabric for superior product performance. Our strong, durable top-of-the-line fabric offers these exclusive features:
Ultraviolet protection
Chemical resistance
Mildew resistance
Fabric strength (17 oz)
Tear resistance
Abrasion resistance
Minimal fabric shrinkage (less than 1%)
Exclusive color-match, heat-sealed webbing
Choose from 10 standard colors (custom colors also available)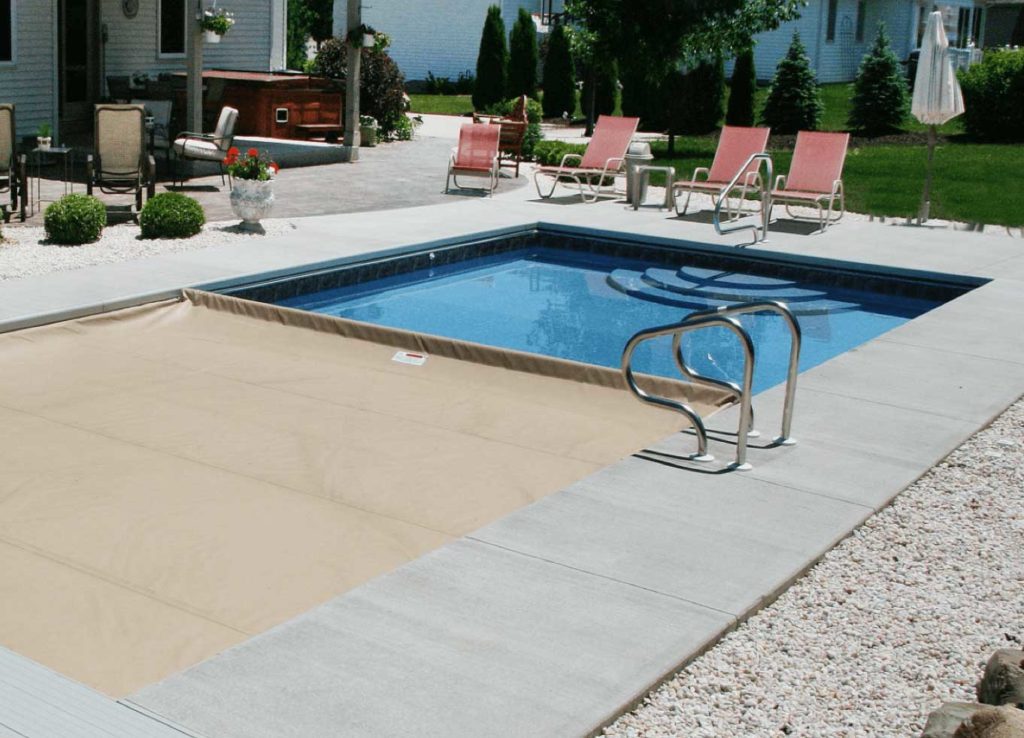 FEATURES
Coverstar Superior Mechanics
Our models are constructed with a reliable mechanism to make our covers durable and reliable. Our unique mechanism is engineered with heavy-duty components and ropes and pulleys that are stronger and larger than any others used in the industry. The extreme precision of the machined and laser-cut parts allows for smooth operation and many years of hassle-free use.
Automatic Pool Cover Options
Finding the right pool cover isn't just about safety, it's also important to design an autocover that complements your pool design and helps to create the ideal environment and aesthetic. In addition to our top-of-the-line features and pool cover parts, we offer the following customization options.
Coverstar automatic covers can be applied to a broad range of pool designs and types. Options include your choice of ten standard fabric colors.
Ask your dealer about other available custom colors and fabric weights.
Please note: Actual colors may appear differently
Choose from three different cover track options to fit the design and shape of your pool:
Under-Track Systems: Under-track systems are embedded in the pool wall or mounted to the bottom side of a rectangular pool's coping to create a seamless design and remain virtually unnoticed. For a more integrated look, the track can be built directly into the pool wall.
Top-Track Systems: Ideal for freeform pools, the drive system is installed under an aluminum lid or mounted to the surface of the deck.
Recessed-Track Systems: This track option features an aluminum track that is recessed in the pool deck during pool construction. The recessed track sits flush with the top of the deck.
A Coverstar system has a wide variety of coping options that integrate beautifully into a new pool. We offer three aluminum coping styles and two different concrete coping options.
Aluminum Coping
Inclined
Rounded
Bull-nose
Concrete Coping

Choose from five cover control switch options; three touch pads and two locked manual switches:
Standard Touch Pad: Control your automatic cover using a programmable security code.
Touch Screen Controller With Safety Alerts: Connects to your existing home network. Setup notifications to tell you when the cover is closed, left open, or when an unauthorized user attempts to log in.
Toggle Switch: Secured under a weather proof, locked lid. This switch works much like a standard light switch, but with momentary action to meet the highest safety standards.
Rocker Switch: Same enclosure as the toggle switch. This switch works much like a décor style light switch. It also has IP56 rating for long, reliable performance outdoors and momentary action.
FEATURED RESOURCES
Learn More About Autocovers
FROM THE BLOG
Stylish Options for Concealing Your Pool's Automatic Safety Cover
When an automatic safety cover is deployed, it's a thing of beauty. Not only is it easy on the eyes, it's also protecting your family and saving you mo…
FROM THE BLOG
What You Should Know About Automatic Safety Cover Track Options
Automatic safety covers provide an array of benefits from protecting your family to lowering your heating bills. And, they can be installed on new or exist…